Hello everyone,
I would like to share with you my latest make:
I used papers from Pion Design Scent of Lavender collection for the base and top layer. I used hot glue with silicone mold to create frame and that little bow above it. Thank you
Pamellia
for the tip! I added some purple microbead in the corner and a birthday sentiment printed out on a piece of vellum.
The shabby bow is sitting on top of tulle bow...
All the flowers were handmade by me :)
I would like to enter this card into following challenges:
Pion Design April Challenge Flowers of Provence
with this gorgeous image: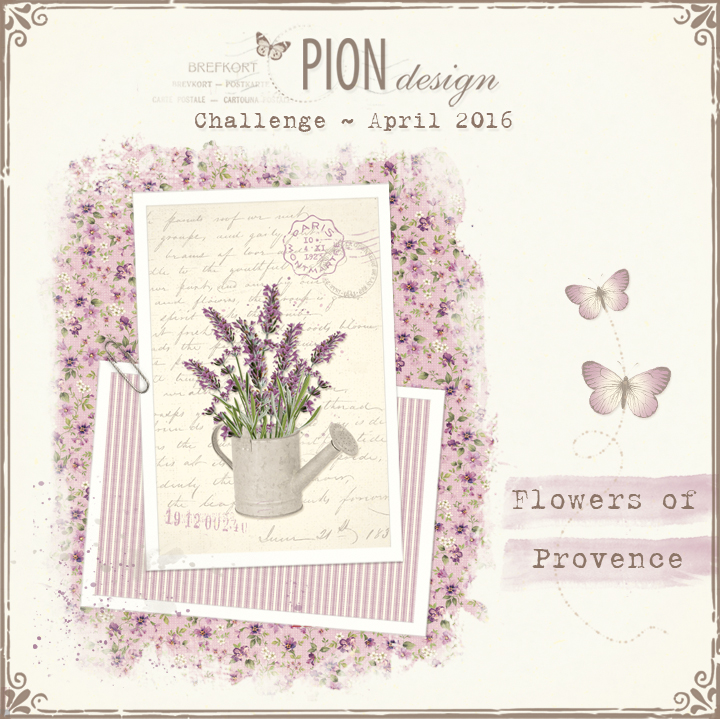 Special Day Cards challenge #127 Birthday Card with Microbeads
Scraps 'n' Pieces April challenge Be Romantic
with this gorgeous inspirational image:
The Scrappy Sketches challenge #10
with this beautiful sketch:
Allsorts Challenge #358 Purple Passion
Scrapki Wyzwaniowo Challege "Tulle"
I hope you enjoyed this post...
Have a wonderful day and thanks for stopping by...
UPDATE:
04/23/2016 I am thrilled to announce that my card was
Top 5 at Special Day Cards challenge
and I was also invited to participate in one of their challenges as a Guest Designer! YAY!!!
05/06/2016 My card was selected as one of the featured from April challenge at
Scraps'n'Pieces
!
05/17/2016 My card won the challenge at
The Scrappy Sketches
!!! YAY! And I was invited to be a Guest Designer for one of their challenges :)